1984 - 89 300ZX (Z31)
Polyurethane Rear Spring Seats

Exclusively Sold Through



No longer sold driect by MFP or Gary Molitor.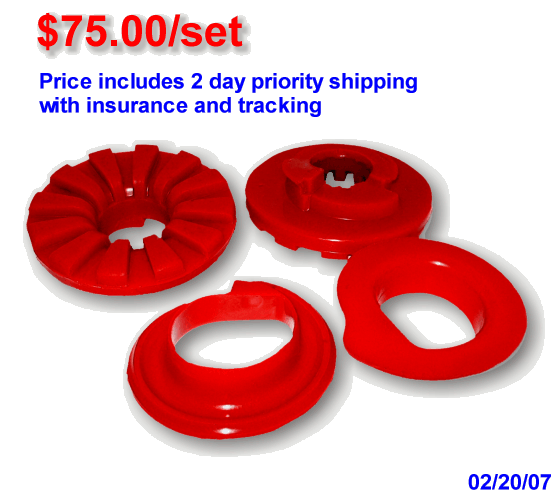 MFP-RSS, Z31 Polyurethane Rear Spring Seats

DETAILS

• Made in the United States
• Made from pure polyurethane elastomer
• Made to fit just like the original
• Stronger and longer lasting than original rubber
• No change in ride stiffness
• Cured under pressure
• As a reference, similar to other urethane bushings
• Urethane specifications
• 90 Shore A hardness
• 300 pli (pounds per linear inch) tear strength
• 600% elongation at break point



Nissan OEM spring seat, upper and lower.

55036-01P10 "Upper Spring Seat Rubber"
Fiche 4-N11,sec. 431-1, Drawing # 55036

55038-01P00 "Lower Spring Seat Rubber"
Fiche 4-N11, sec. 431-1, Drawing # 55068


Location on rear "C" member.

Pressure chamber used to cure urethane seats.

Manufactured by
Gary Molitor
San Leandro, CA 94577



Another "Molded Fiber Product" from
the Studio of Gary William Molitor

The Nissan names, logos, product names, feature names, and slogans are copyrighted trademarks owned by or licensed to Nissan Motor Co. Ltd. and/or Nissan North America, Inc. 2002-2005 Nissan North America, Inc.

This product is not endorsed by Nissan.

Read this Warranty
Molitor's Art Home 1artworkz' 300ZX Home
SSite designed and executed by G.W. Molitor. All rights reserved
Copyright © 1997, 1998, 1999, 2000, 2001, 2002, 2003, 2004, 2005, 2006, 2007, 2008, 2009; Gary W. Molitor. San Leandro, CA
Send mail to gary.molitor@gmail.com with questions or comments about this web site. Updated 04/27/2009.
Please note that the links offered here are not for commercial purpose but for your information only. This page is complete!