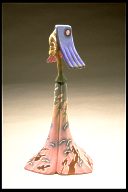 View 3D Stereographic Image
"The Angel of Victory", 1976, 14"h - 8"w - 8"d.

Cone 6 cast porcelain with underglaze colors and clear over glaze.

In inventory, Sale price $800.00
The at Sonoma job ended with the return of "Muffy" Anderson. I went to Las Vegas to teach (that's a story for another page.) From Las Vegas I moved to Marin County. I setup a little studio in a 2 two car garage, sharing the space with an inflated rubber boat (Zodiac) that belonged to a professional skin diver and house mate. I did a few cups while there and this bottle. These were my first attempts at casting with porcelain. I really liked this way of working with clay. It is so involving; first the idea, a clay model, mold making, careful firing and glazing with control. I first started casing clay when an old friend, Steve Samuel, who had asked me to make a mold of a steel drum called a "Dumbec". These drums vary in size, look like the combustion chamber of a rocket motor and make this great resonate DOOUNG sound. I still have one. Before this piece, I did a series of stoppered bottles, one which can be seen below. Low fire white clay just looks too soft and artificial, porcelain is hard and the color is fired right in to the surface.